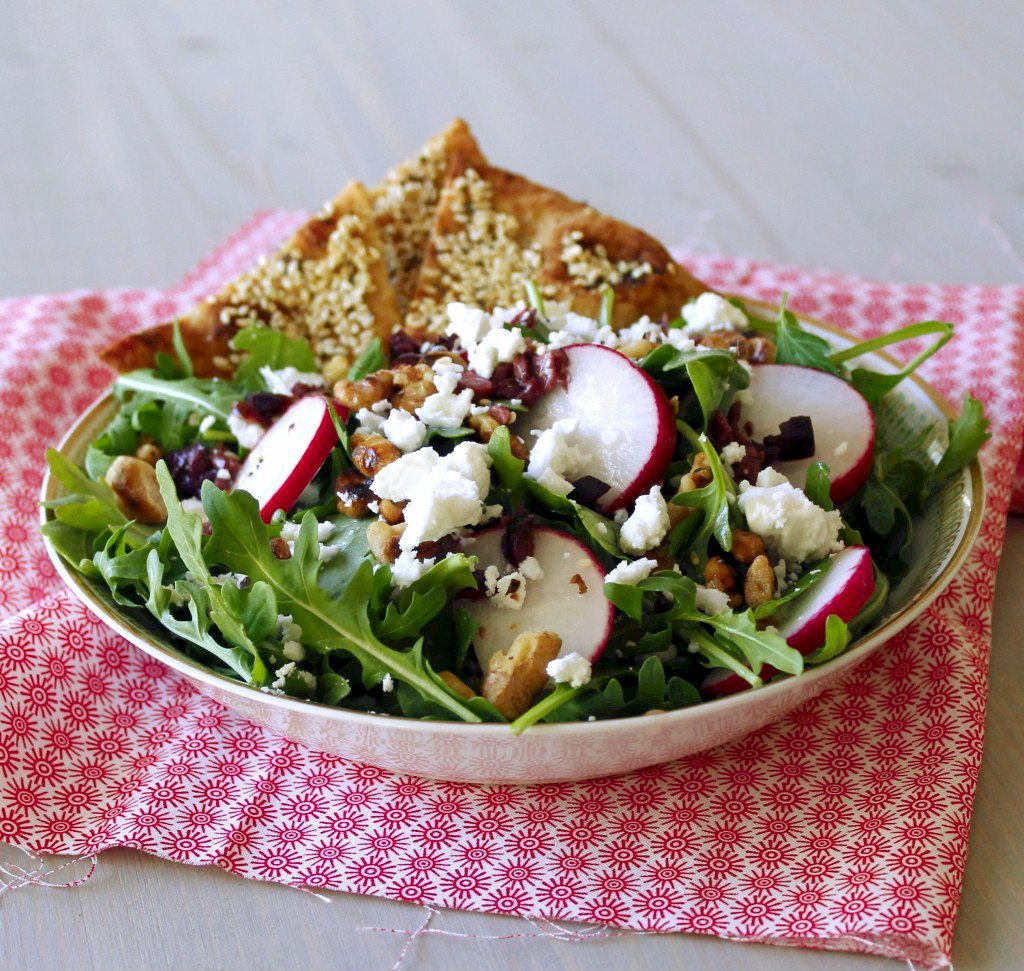 It's amazing what a fantastic restaurant experience can do to help eliminate a food aversion. I have pretty much always viewed the radish as the red-headed step-child of the salad bar. Probably because most radishes that have sat on a salad bar are far from fresh. But I had tried them at home, once, and remember wondering what all the fuss was about.
Then last week I traveled to Georgia for a work conference and after our flight we ate a late lunch at the Colbeh Persian Kitchen & Bar in Decatur, GA. Instead of the usual bread and butter, they brought out this beautiful plate full of fresh herbs (mint, parsley and basil), sliced radishes, toasted walnuts, fresh feta and butter to stuff like a sandwich into their super-delicious, homemade Persian flat bread. Granted, I was pretty hungry, but the combination was sublime, radishes and all.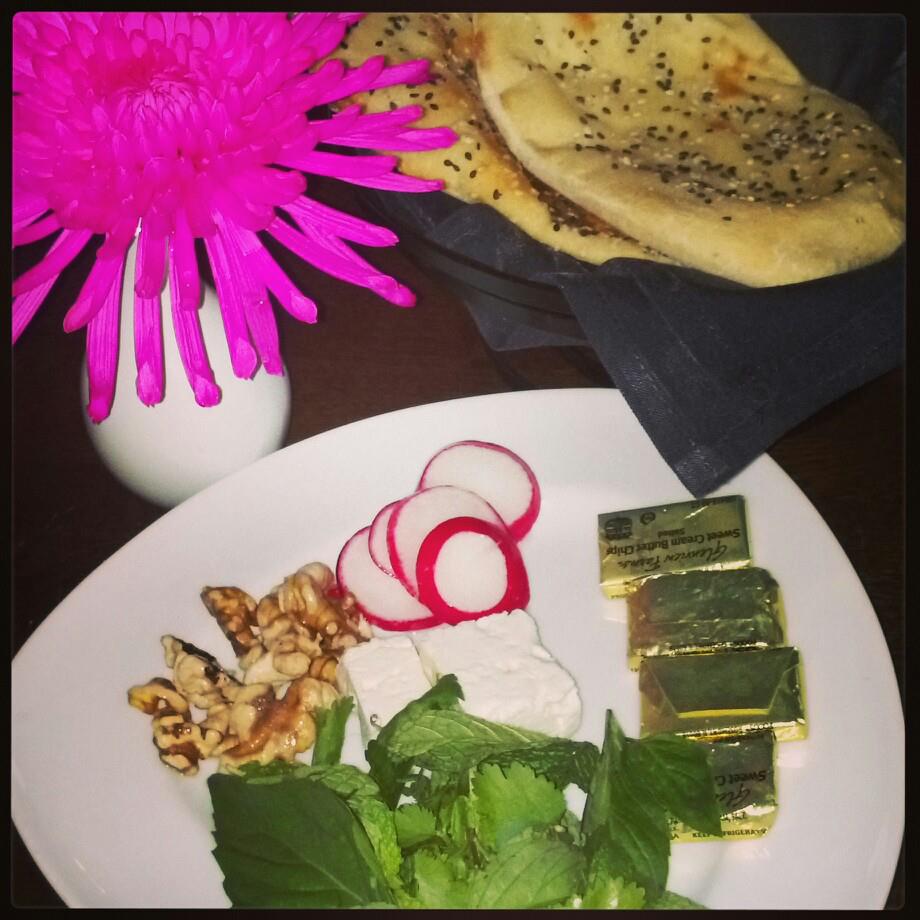 I talked about normally not liking radishes, and my friend Shannon she said her mom used to keep a jar of cut radishes in the fridge, soaking in water, to snack on. This made sense to me because I keep cut celery soaking in water in the fridge. And it really does taste so much better than the non-soaked version.
So today I came home and placed my beautiful, organic, cut radishes in a jar of water and then assembled my salad, based on the restaurant dish. It was a big hit, at least with me… in this case, I just wanted a healthy lunch for myself. The kids were at school, so I could do that!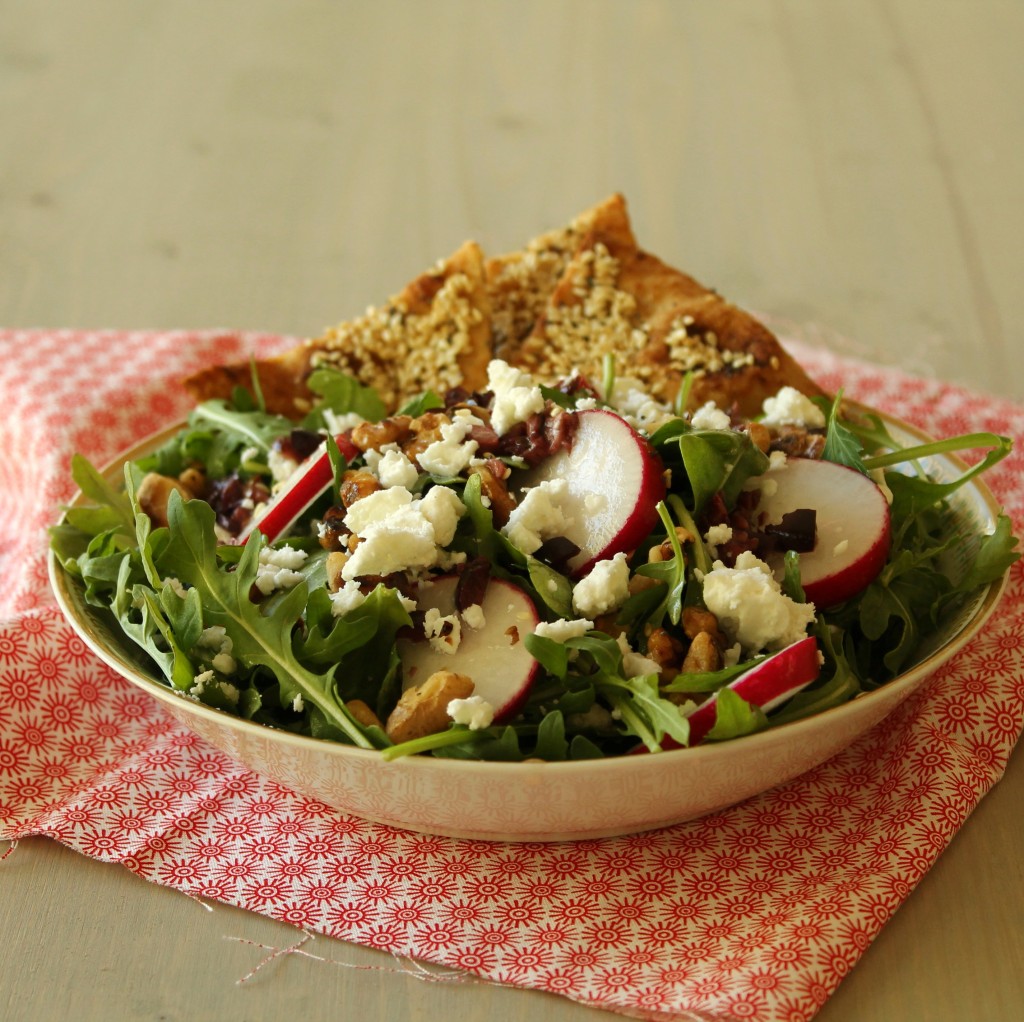 Persian Herb Salad
2013-04-30 15:27:31
Serves 1
Ingredients
2 c. fresh arugula
1/3 c. mixed fresh herbs (mint, basil and flat-leaf parsley)
1/3 c. sliced fresh radishes
1/4 c. feta cheese
1 T. toasted walnuts
1 T. kalamata olives, finely chopped
1 T. fresh lemon juice
1 1/2 t. olive oil
1 t. honey
Instructions
Combine the chopped olives, lemon juice, honey and oil in a glass jar and shake well to combine. Toss the arugula and fresh herbs together in a bowl and pour the dressing over the greens, tossing well to combine. Top with the radishes, feta cheese and toasted walnuts. Serve with warmed flat bread.
Notes
I purchased whole grain flat bread and topped the slices with a spritz of olive oil and sesame seeds, then warmed the bread in the toaster oven.
Foodtastic Mom http://www.foodtasticmom.com/