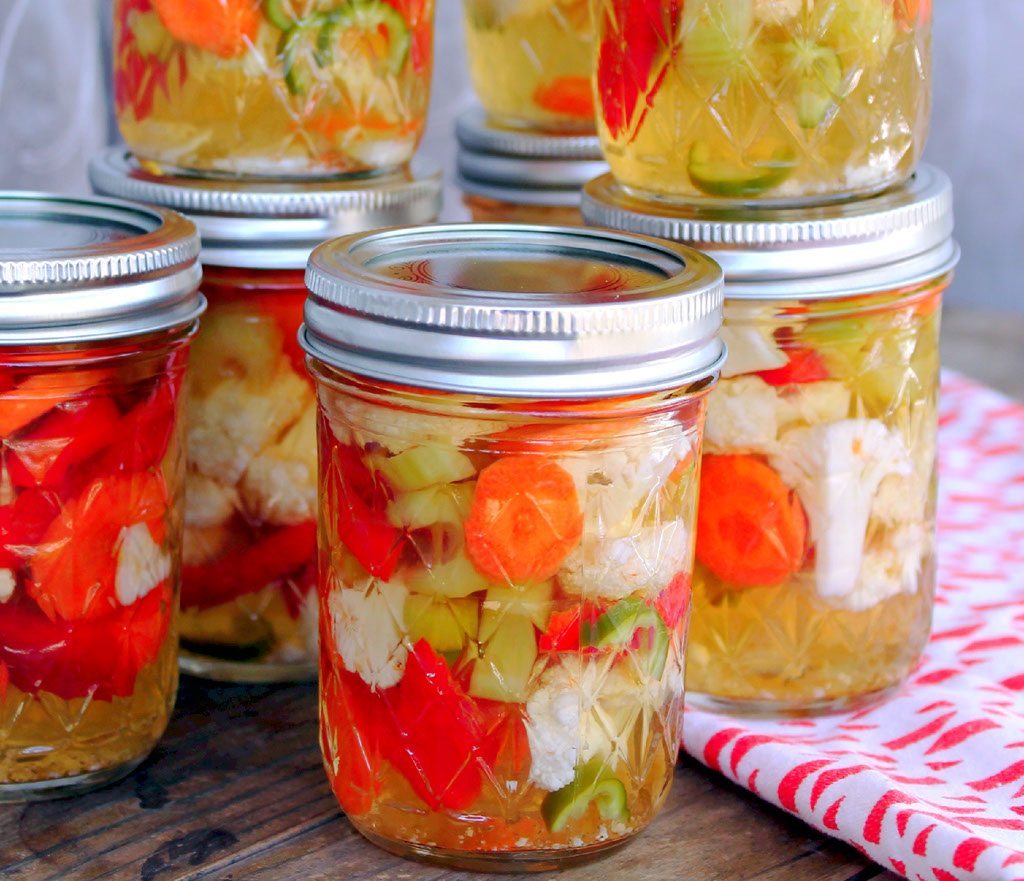 So I turned our kitchen into a little bit of a Chem Lab today and spent the morning making this homemade Giardiniera and homemade Wine Jelly (which I'll post about tomorrow, once it is set and ready to spread atop some fancy crackers with cheese). Once again, the recipes are thanks to my BFF's over at America's Test Kitchen… this time from their D.I.Y. Cookbook.
In case you don't even know what Giardiniera is (and don't be embarrassed if you don't), it's a mix of pickled vegetables that has Italian origins. You can pick up any number of brands at the grocery, but what's the fun in that? Besides, I will only buy one type of pickle, Izzy's, because they are refrigerated, delicious and local (to me). I did try a brand of Giardiniera from a store once and was very underwhelmed. So I have high hopes for this and the only difficult part is going to be waiting the required seven days to try it!
And don't think this was some all-day canning effort. Both the Giardiniera and Wine Jelly together (start to finish, including photographs and clean up) took less than 2 hours. The Giardiniera will keep for one month in the refrigerator, so no canning needed. Maybe I'll try canning one day… I suppose I should add that to my "40 Bucket List".
I started off with a big bunch of fresh dill (which smelled amazing as I was chopping it), a very fresh mix of veggies, some good quality white wine vinegar, sugar and salt…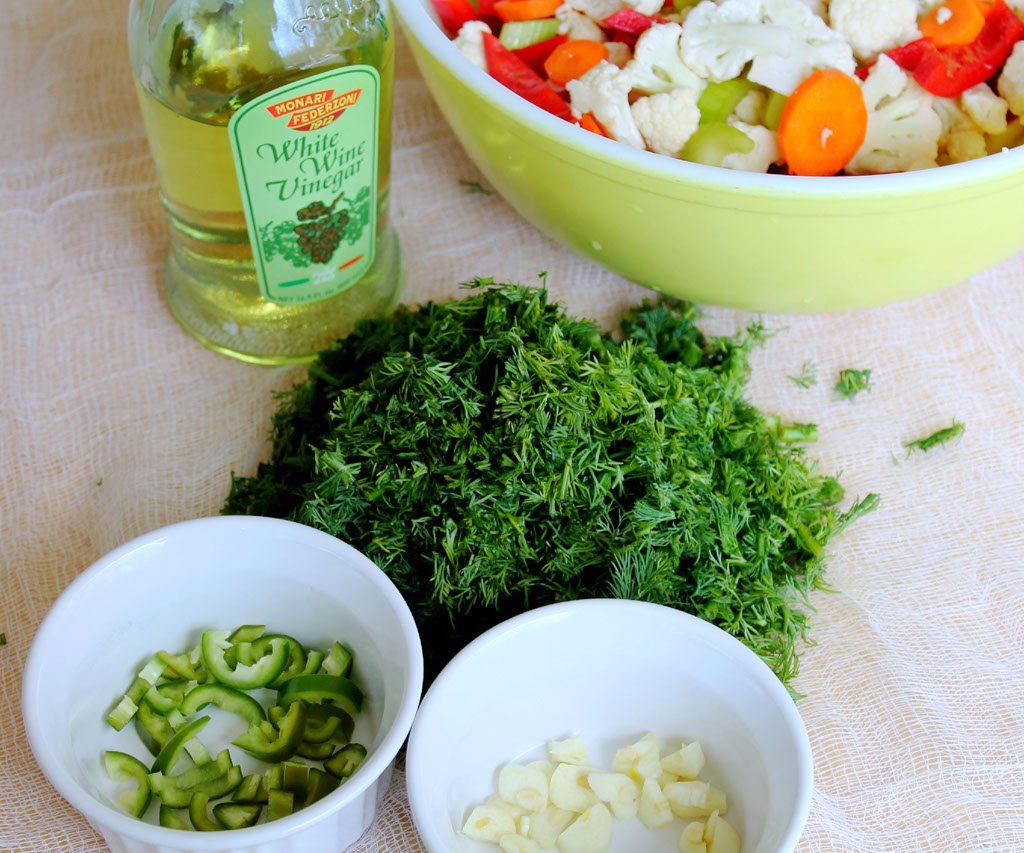 The original recipe called for two serrano chiles, but those suckers are hot and I'm a wimp. I cut it down to one and removed the ribs and seeds, where most of the heat resides. Please be sure to wash your hands very, very well after prepping hot chiles, and even then, I'd wait to touch your eyes for a few hours… trust me, I know from experience!
This is the steeping liquid (just the white wine vinegar, water, sugar and salt) after the fresh dill bundle has cooked in it…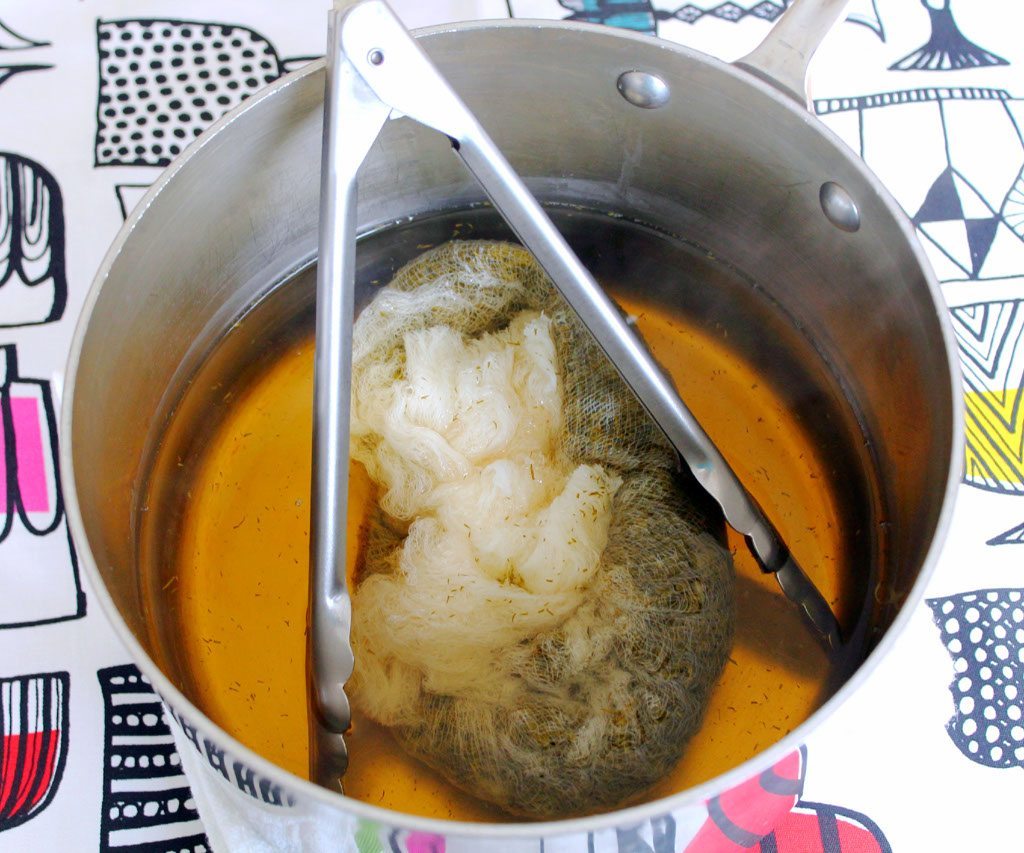 After removing the dill bundle, you return the liquid to a boil, remove it from the heat again, and evenly pour it over the veggies, chiles and garlic you've filled your jars with… that's it! Let cool on the counter, put the lids on, store in the fridge and wait seven days till ready to eat. You can use Giardiniera as a condiment in sandwiches and wraps, toss with a quick pasta salad, or just eat as part of a quick lunch with some hummus and crackers. I can't wait to try this homemade version…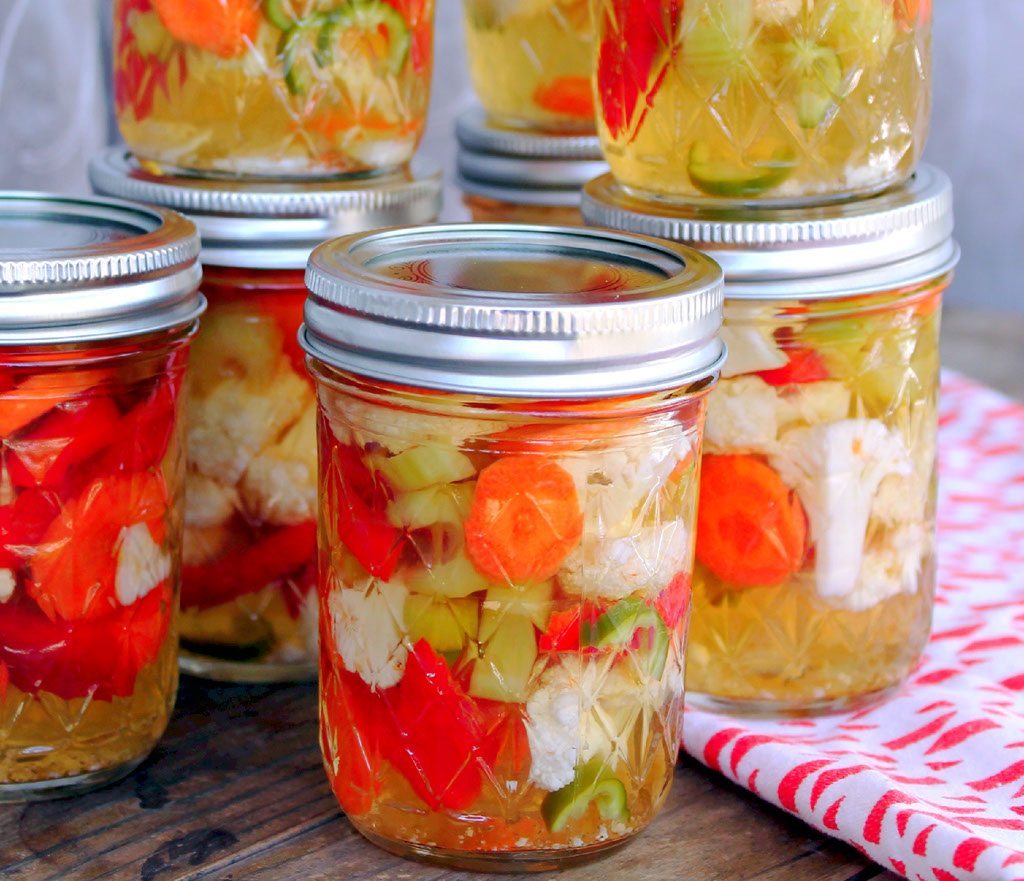 Giardineira
2013-03-23 13:19:20
Ingredients
1/2 head cauliflower (1 pound), cored and cut into 1/2-inch florets
3 carrots, peeled and sliced 1/4-inch thick
3 celery ribs, cut crosswise into 1/2-inch pieces
1 red bell pepper, stemmed, seeded, and cut into 1/2-inch wide strips
1 or 2 serrano chiles, stemmed, seeded and sliced thin
4 garlic cloves, sliced thin
1 c. fresh dill, chopped
2 3/4 c. white wine vinegar
2 1/4 c. water
1/4 c. sugar
1/4 c. Diamond Crystal kosher salt (or canning salt)
Instructions
Toss cauliflower, carrots, celery and bell pepper together in large bowl until combined. Divide the chile and garlic slices evenly among the bottom of your jars. Then divide the fresh veggies among the jars.
Bundle the dill in cheesecloth and tie to secure (I just tied the cheesecloth together at the top, as it comes in a very large piece). Combine the dill sachet, vinegar, water, sugar and salt in large saucepan. Bring to boil over medium-high heat. Cover, remove from heat, and let steep for 10 minutes. Discard dill sachet. Return brine to boil.
Pour brine evenly over vegetables. Let cool to room temperature, then cover and refrigerate for 7 days before eating. The Giardiniera can be refrigerated for up to 1 month.
Foodtastic Mom http://www.foodtasticmom.com/