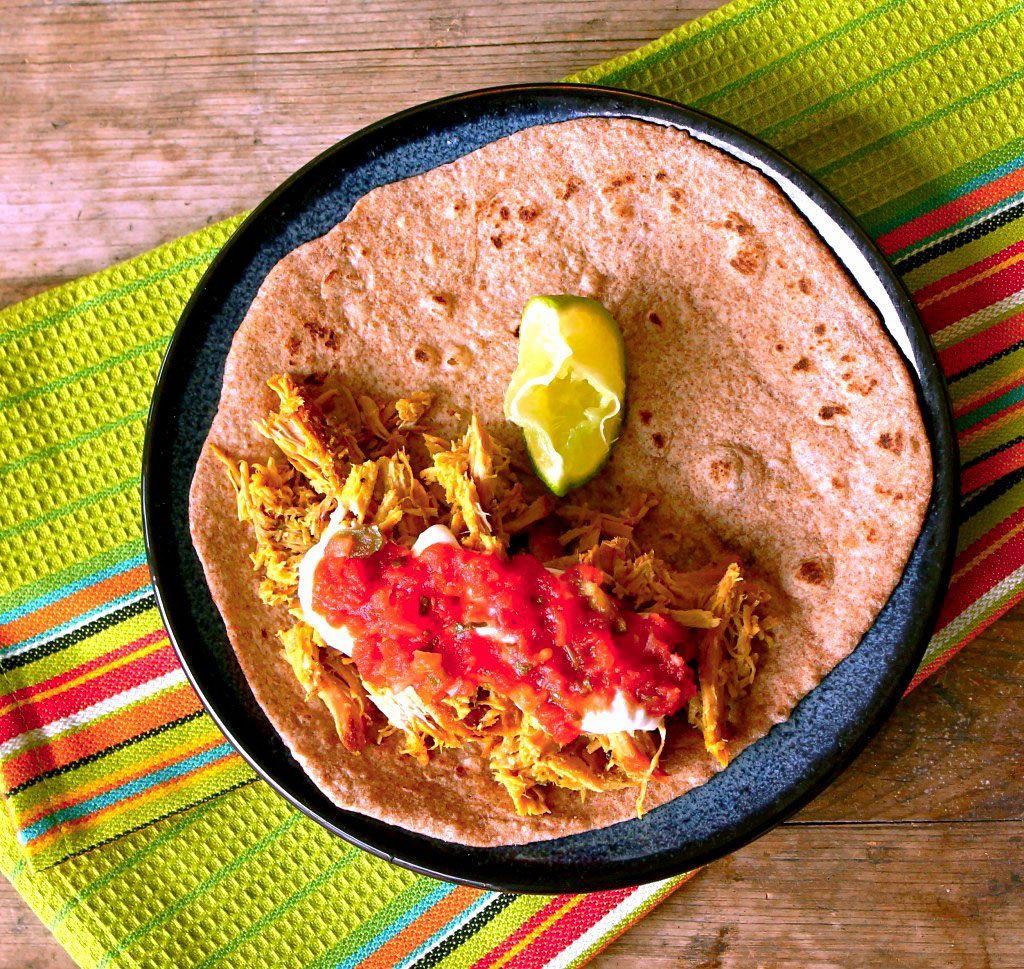 I believe this is now my ultimate, go-to recipe when I have a pork tenderloin hanging out in the freezer. I wish somehow my blog had a scratch-n-sniff app. I can't even begin to describe how luscious the marinade smelled after I'd pulverized it in the food processor. Better than chocolate… I am not even kidding.
I came upon this ultimate recipe because I in fact had two tenderloins in the freezer waiting on inspiration. They totaled about five pounds worth of meat. I follow Annie's Eats blog and did a quick search of her archives and this spicy shredded pork recipe is what I found. She had borrowed it from The Pioneer Woman… so it is her original recipe.
The original called for cooking the pork in a dutch oven. I made the switch to the crock pot because I love being able to walk away from my food. Also, of all things, I was out of chili powder! It was on my list to purchase, but as I was browning the meat and assembling the marinade, THAT is when I remembered I didn't have one of the key ingredients for what I was making! Luckily, my plethora of other spices help keep me adventurous, and so I rigged up an approximation (not really) of a substitution for chili powder. It didn't matter to me that I didn't have it, because this pork makes a darn tasty (and healthy) taco… but for simplicity's sake, I'm including both the original and my own combination for your choice to make. Also, I left out the garlic. I'm a huge fan of fresh garlic, but for some reason, I'm not a fan of how garlic tastes after cooking so long in a crock pot… this is just my own personal preference.
These really are healthy tacos, which is amazing considering their decadent taste. I served the pork with whole wheat tortillas, fat-free sour cream, fresh salsa and lime wedges… all purchased from one of my favorite food suppliers ever, Trader Joe's. Seriously, make these… you won't be sorry!
Crock Pot Spicy Shredded Pork Tacos
for the marinade
1 onion, peeled and quartered
1/4 c. brown sugar
1 t. chili powder
1 t. cumin
1 t. oregano
2 T. red wine vinegar
1 T. olive oil
1 T. salt
-OR-
1 onion, peeled and quartered
1/4 c. brown sugar
1 t. cumin
1 t. oregano
1/2 t. dried mustard
1/2 t. tumeric
1/4 t. chipotle chili powder (a little goes a long way)
2 T. red wine vinegar
1 T. liquid smoke
1 T. olive oil
1 T. salt
1/2 t. fresh ground pepper
Combine all ingredients into the food processor and whirl until completely combined into a homogeneous sauce.
Meanwhile, heat a dutch oven over medium high heat. Add 2 T. oil and heat until shimmering. Lightly salt the pork and pat dry with paper towels. Brown the meat, starting with the fat-side down. My two pork tenderloins took about 16 minutes to brown well. The flavor is worth this first step. Transfer the pork to the crock pot, set to low heat. Completely smother the pork with the sauce, cover and cook on low for at least 6 hours.
Remove any visible fat from the pork (there should be hardly any). Shred the pork directly in the sauce. I used my metal tongs and it just fell apart, right in the crock pot.
Serve the shredded pork in the sauce with tortillas, your favorite salsa, sour cream and fresh lime wedges.
Recipe adapted from
Annie's Eats
who adapted it from
The Pioneer Woman